We are Celeste and Reece, a husband and wife team with a real love for photography and film making.
We are blessed to do what we love and give our clients breathtaking artwork of one of the most important and memorable times of their lives. Capturing intimate elopements, casual beach weddings, elegant and formal events, big multiple day weddings, destination weddings and traditional church weddings.
We are international award winning photographers and have been published but the biggest compliment that we receive is making our clients happy.
We are available for travel.
Very lovely couple. Very accommodating. The quality of pictures and video was great , worth every penny.
The photos are amazing as expected!
LOVE love love the video edit! We've sent it around to some family and friends and everyone is just falling in love with it! 😊
Thank you so much once again for capturing our day. You're the best! Seriously. The best.

I thoroughly enjoying having this husband and wife team capture our wedding day photos and video! Working with them was easy and relaxed and the photos and videos are beautiful and capture the day perfectly.
Celeste and Reece were the only persons we would trust to document our wedding journey, from our engagement all the way through to our four-day Hindu wedding.
Their professionalism was a cut above the rest. When my husband, Navin, and I think of our wedding memories, we think of all those beautiful, cherished moments captured in the most exquisite but effortless manner that is characteristic of Celeste and Reece's work. We could not have chosen any better.
They're the best in the business!
Celeste and Reece were the perfect couple to work with! They brought great energy on the day of our wedding and not only captured the memories of our day but in their own way ensured our wedding ran smoothly and timely. We will certainly recommend Celeste and Reece to any couple that wants a stress-free experience and the pictures and video they produced was nothing short of spectacular!
Amazing!! Professional!! Warm!! Excellent!! It was a honor to have them accept our invitation.. We would recommend them without hesitation...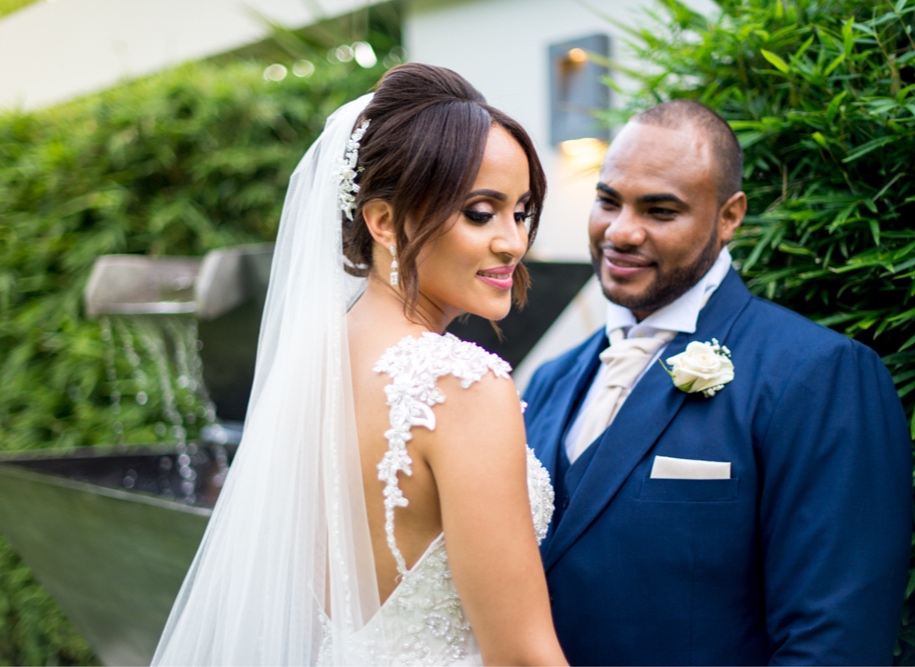 Celeste and Reece were very flexible. Which is what you need on that day. Their photography is truly captivating and one of a kind. It's very natural. Which is also what I love.
Celeste & Reece were everything we expected and more!
If there is one part of your wedding planning that you should leave no room for compromise it's your photography/video! You're forever reminder of your special day. There is absolutely no room for regret. This duo, were on spot at every different angle, moment, laugh and tear for our special day. The finished product is in comparison to none and every person who has seen it so far is completely blown away at the quality...
After viewing Celeste's and Reece's portfolio I knew they had to be a part of my special day. After my initial conversation with Celeste, I was convinced. She was easy to talk to and also offered advice regarding another aspect of the planning process. The service on the day was provided with professionalism and then end product was absolutely beautiful!


Frequently Asked Questions
• What Packages do you offer?
We have a Variety to cover most types of weddings and events! Once you email us with your event information we will Respond with our packages and more information.
You can also Put your Budget in the message you send us from our contact form.
Basic Pricing Guide:
• Couples / Portraits / Engagements Starting At $2,500. TT
• Elopements / Intimate Weddings Starting At $5,000. TT
• Wedding Photography Starting At $10,000. TT

• Do you charge a travel fee?
We are based in Trinidad & Tobago so no additional travel costs for weddings in Trinidad or Tobago.
• Do you do destination weddings?
Yes of course :) We love destination weddings, in fact it's how we got started, we have been doing destination weddings for over 10 years! So yes we are available to travel and we will discuss travel arrangements with you once we have all the details.
• What style of editing do you do?
Every photo you receive will be edited in our unique style. This includes color-correction, exposure adjustment, selective black and white processing, clarity adjustments and other corrections such as removing a pimple or stray hair. Skin tones and whites are accurate and the natural colors of the scene are real and vibrant, giving the image a beautiful timeless aesthetic. For presets and the film look we will do that to a duplicate on a few portraits. We eliminate duplicate images, test-shots, shots with unflattering expressions, and other images that may dilute the overall product quality.
We usually edit and deliver 500 - 900 images depending on your package / wedding day / event.
• How long will it take for our wedding pictures to be ready?
Within days after your wedding you will receive a few teaser images! Editing time may vary based on the "wedding season" and our travel for weddings, it takes on average 6 - 10 weeks for us to edit your images.
• Do you get Both the bride and groom dressing?
The Groom is also covered once within close proximity / same location / hotel (please discuss with us to be sure)
• How far should we book in advance?
A photographer is one of the first vendors booked for the wedding! So as soon as possible :)
•How will we get our photos?
Your images will be sent as downloadable digital files. This gallery will allow you to save and share the images. The images will not have a watermark or logo on them, however, when posting on social media, we always appreciate receiving credit so it would be sweet to tag us :) #CelesteandReece
• We are still confirming our wedding plans / location, but want to book you, what is the next step?
Dates are not held / guaranteed without booking confirmation, if you are interested you can request that we can put a temporary hold. And to confirm your booking with us: Email us to confirm time / date(s) are still available and your package choice, and we will follow up with a call, your contract and invoice.